Project Overview

---
Satellite Image of the Christiansted National Historic Site and Governer's Mansion (from Google Earth). Reprinted with permission (NPS 2015: 15).
From October to December 2014, the National Park Service authorized the removal of a 70-year-old mahogany tree stump in the courtyard area of the Christiansted National Historic Site in St. Croix, USVI. Removing the stump allows researchers, the larger Crucian community, and the National Part Service to uncover and protect some of the unknown cultural resources related to Danish slavery and the history of this historic site. The goal of this project was to salvage all of the cultural resources that may have been disturbed by the former tree's root system and to let this investigation serve as the beginning of several archaeological excavations planned in the park that explore the unique history of the Danish West India and Guinea Company Warehouse. According to historic maps, the stump was potentially located above a storehouse originally used by Royan Danish officers, as clearly shown on a rectified version of the 1803 layout of the Danish West India and Guinea Company Warehouse. The excavation was led by Dr. Joshua Torres, Cultural Resource Program Manager for the National Park Service is St. Croix. After recovering over 3000 artifacts, the materials were shipped to the University of Tulsa for further analysis. This website, sponsored by the Tulsa Undergraduate Research Challenge Junior Scholars Program (TURC), serves to showcase some of the artifacts discovered during this project as well as to share some information about the history of the site and the importance behind this monumental collection once hidden under a stump.

Location of the Mahogany tree stump and earlier floorplans of the Danish West India and Guinea Company Warehouse (Hardy 2011: 196).
---
| | |
| --- | --- |
| | (A) Overview of 4x4m west half to 20 cmbs (top left). (B) Volunteers excavating the NW 1/4 of unit East 1/2 to 50 cmbs (top right). (C) East 1/2 of unit showing NW 1/4 excavated to sterile clay (70 cmbs) and SW 1/4 with sondage in corner. Note defunct water pipe running northwest to southeast through unit. (NPS, 2015). |
Powered by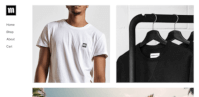 Create your own unique website with customizable templates.